Shopping Basket
Your Basket is Empty
There was an error with PayPal
Click here to try again
Thank you for your business!
You should receive an order confirmation from Paypal shortly.
Exit Shopping Basket
Dog walking and pet sitting services
It has been an age since my last blog! Apologies. This is partly due to the fact that the books at Mind My Paws are almost always full. Well for dog walking, but there's always room for cats to be fed.
In the last few months, Mind My Paws has relocated from Twyford to Woodley. Our premises (house!) is bigger and the garden is a real treat for all the pooches that come to stay.
Moving to Woodley means that we now have spaces in the schedule to make sure the cats of the town are able to be looked after while the humans are away to sunnier climates.
We offer a pop-in service, morning and night, to feed, clean litter and play with your cat while you are away. 
Please get in touch for more information. 07736 280852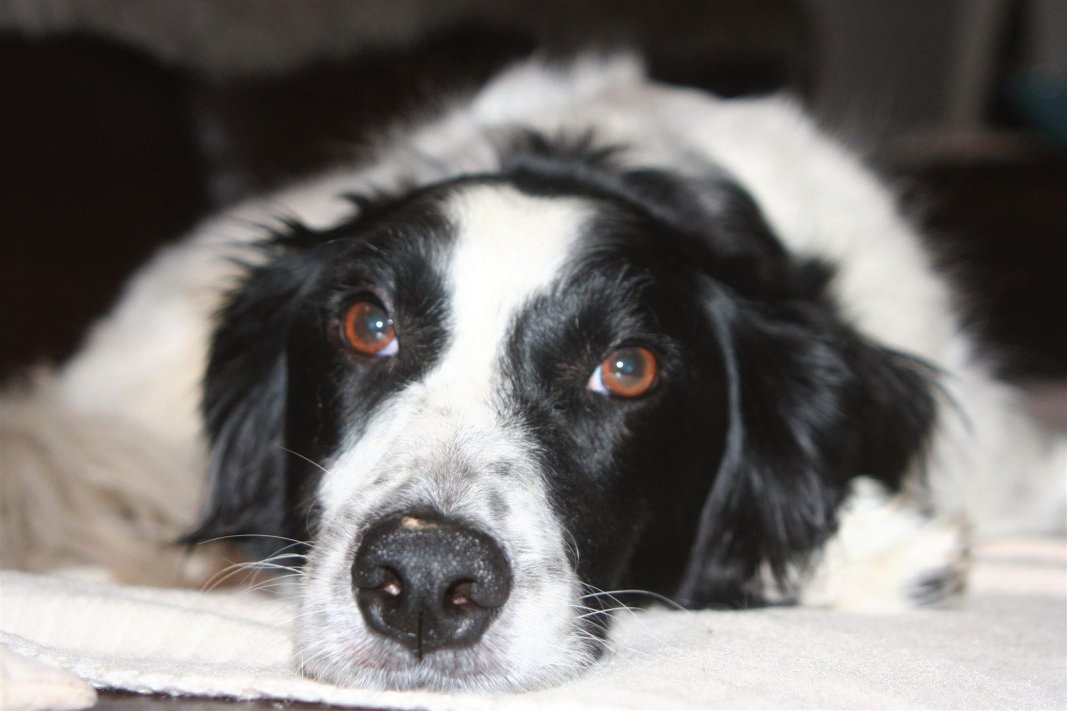 It's been a while since I've updated my blog but there's lots going on. Tam, the border collie / springer cross, is our current boarder and has been with us for two weeks now.
On his arrival, we went straight out on a pack walk with Dudley, Socks and our new addition, Stanley (more on him later!). To start with Tam was very shy and stayed by my side the whole time.
But as the week progressed and the more and more dogs he met, the more confident he became. We are now at the point where his 'play with me' bark is very loud and almost constant!
At home Tam is such an obedient boy and ALWAYS does what he's told, even if you can see it in his eyes that he doesn't want to (going to his own bed being one of the things). His favourite place is right by your feet or taking up the whole sofa!
We really have loved having him stay so much that it will be very hard to give him back on Friday.
Until then there's lots more walks to do and fun to have.
Will, the beautiful 11 year old golden retriever really is a lovely natured dog, always so excited when you walk through the door and usually sitting by your feet wherever you are in the house. He follows you wherever you go and normally has a squeaky toy that he's trying to give you.
And last but by no means least there's Spike, the eight year old cross that Anne and Jim kept after fostering him. And who could blame them - Spike is such a lively, happy, good-natured dog. At the slightest hint that he might be going for a walk, ie if I stand up, he does 360 degree turns/jumps. Hilarious to watch. No matter how many walks he goes on or how many balls you throw for him, he never seems to want to stop.
Every day, we all went for an early morning walk at Ashenbury Park, where everyone seemed to know the boys and lots of confused faces when they saw me with them! Spike came on lots more walks with me over the two weeks and met lots of new friends.
Our night time routine consisted of them getting fed, Murphy hoping that he'd get a bit of my dinner (he never did) us all settling down to watch TV then we all headed off to bed - there was just about enough room for me on there!
On my return home I am a bit grumpy (as I often am when I have to say goodbye to another pup) my husband says, 'at least you've got me back, that must make you happy.' My reply was simply, 'seriously Jason, there's three of them, there's only one of you.'
It's been non-stop here at Mind My Paws since June. Since my last post, as well as my regular daily dog walks, Toby the black lab has boarded for a week, Dudley the chocolate lab has stayed for a week and Digory the daschund stayed for a fortnight.
I could spend hours writing about all my boarders, but just don't seem to find the time. However, I have made time to write about my latest boarder, who has just left us after a fortnight.
Bethan, the ten month old working spaniel truly is the perfect dog. To get to know each other before she came to stay, I walked her a few times (on her own and with my pack) and she stayed over for a night, so we knew what to expect: a very excitable pup who loves socks and jumping on and off the sofa to give equal attention to everyone in the room!
As we all know, most dogs LOVE to walk. I have never met a dog more excited about going for a walk than Bethan! Everytime you stand up, her tail wags uncontrolably with anticipation that we just might be going out for another walk! Walk times were her chance to find balls and she refused to give up until that ball was found. Giving them back was another matter...... She has taught me it's always best to take more than one ball on a walk.
Bethan got introduced to many dogs during her stay and loved all of them. Her owners told me that she was better with dogs her own size and smaller, but she loved my labradors and ran rings around all of them!
The hardest part of my job is having to say goodbye to each dog, but thankfully as one amazing dog goes home happy, another one comes to stay.
Easter has been a very busy time at Mind My Paws. As well as many dogs to walk, I have been sitting 8 cats over the Royal Wedding weekend.
First up is Pixel, the beautiful Bengal, who's owners have been away for the last three weeks in New Zealand visiting family. She is quite possibly the softest, friendliest cat I have ever met. Apart from one little scare on the lack of seeing her for a day, which resulted in getting to know all the neighbours and the vet (!), Pixel was an utter joy to sit.
Next up are Mya and Coco. With poor Mya having a heart condition and needing medication administered twice a day, I visited them a couple of times before Gemma, their owner went off on holiday. They both seemed happy and relaxed on both occassions, and Mya was happy to let me squirt her medication into the corner of her mouth via a syringe. However, when I arrived on my own, and the flat was Gemma-less - it was a different story! After lots of hissing, I decided to try a different way. So I carefully dropped the medicine on some tasty treats and they were gobbled up. I also had to enlist the help of next door neighbour Jess, who Mya seemed to love, when she refused to eat my treats. As warned by Gemma, Coco hid under the bed on every visit so there is no photo of her!
Then there's Pixie and Pasty. This pair are new to Twyford but are already confident enough to go in and out the catflap to enjoy the sunshine. Pixie loves to be stroked and purrs so loudly it kind of made me want to stay with her all evening! Glossy black cat Pasty is happy to see me as he knows it's food time.
Next is Mary. She gets fed, I let her out the house early evening and go back in the morning to let her back in and feed her again. She is always waiting for me at the front door for her breakfast and is highly vocal while she waits! (she's the one eating out of her bowl).
Archie, the gorgeous Ginger is one of my regulars and is currently on a diet. He doesn't seem to be enjoying his new 'special' food and is not as enthusiastic to see me as he normally is!
And last but not least, Bobby. The photo doesn't quite convey how amazingly fluffy he is - the fluffiest cat I've ever met! He is happy to sit and be stroked and I can see it in his eyes that he wants me to stay longer.
All in all a busy cat week at Mind My Paws. A big thank you to Gemma who brought back the purrfect gift for me!
In the past, Bouncer has gone to kennels when his family go on holiday, but he has never enjoyed going there, so this time, he boards exclusively at Mind My Paws.  Once he got over his fear of our slippery laminate flooring, he was a happy dog. Happy to go out and chase his ball, happy to stay in and sleep in his basket, happy to sit by your feet - generally just happy.
In the five days that he was with us, he has made many friends, both doggy and human! He has joined me on my walks with Dudley, Ozzy who was with us for two days this week, Frankie, Toto and Rolo. As it's Easter holidays, all the kids of Broad Hinton have been visiting and playing with him every day! He loves the attention and they love him!
We are sad that he has gone, but looking forward to having him for a week in August.
Stan, the adorable 14 week old Jack Russell Terrier puppy had his first day at Doggy Day Care with Mind My Paws. His owners, Mark and Stef have had him for four weeks now and have trained him to perfection already! Amazing! Since they've had him, Mark has been at home with Stan training him which explains the impecible beahaviour. He has been well socialised, with both humans and other dogs, so he was quite happy to stay at ours for the day.
Mark and Stef briefed me on all his likes, dislikes, habits and routines. They packed his favourite toys, which he started playing with straight away.
When it came for walk time, on went his leash and he got very excited - until he realised it was raining. He looks up at me as if to say 'what you really expect me to go out in that???' Yes I said, so off we set. Over the next half hour, Stan 'sat' a lot with a determined look on his face. Walk over, he made it clear he was happier sitting on my lap! The second walk later on that day, when the sun was shining, went much better.
Stan is coming to Doggy Day Care next week for three days - I can't wait. He will also join me on a regular walk schedule. I'm looking forward to watching him grow.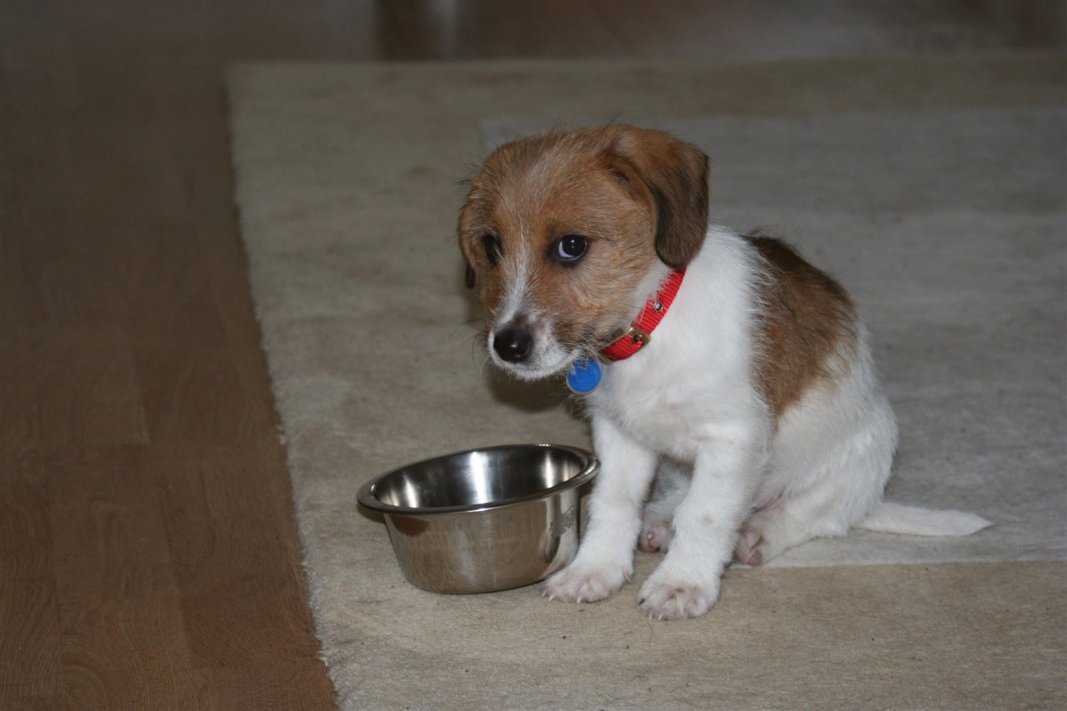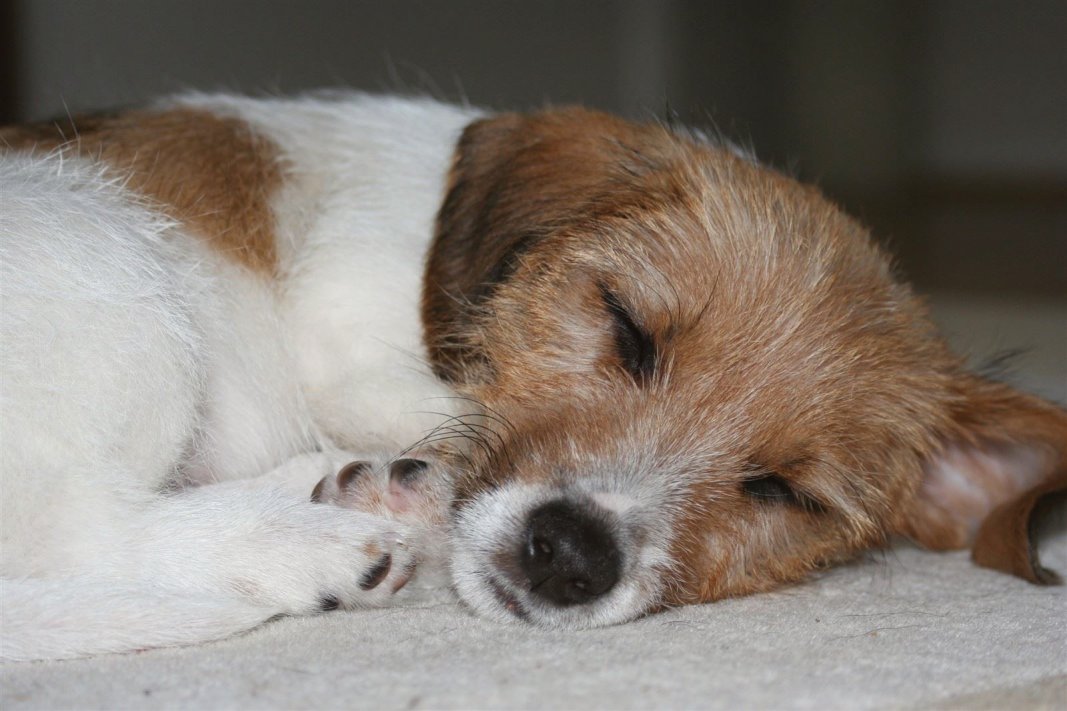 Where do I start with Ozzy, the two year old chocolate labrador from Twyford? As well has having the shiniest coat and most beautiful eyes, he is the most laid back of labs and quite possibly the most well-known dog in Twyford!
He and his family live in the same estate and infact road as Mind My Paws, so it was nice to have a 'local' boarding with us. While they went off to Centre Parks for a long weekend, Ozzy, armed with his favourite toys (including a very squeeky tennis ball!) settled in very easily to his holiday home.
Thankfully Spring has finally sprung so with the sun shining, the fields of Twyford are begining to dry out. On every walk, we met many other 'friends' of Ozzy, who's owners looked slightly confused as they asked 'You've got Ozzy?'
Anyway we had a great weekend, and I've just had to reluctantly let his family take him back home. But we will see each other regularly I'm sure.
Mark and Nicky, the owners of Dexter and Jasmine, warned me I might not see either of them when I visit to feed and change their litter, while they go away on holiday for a week. 
'What usually brings them out of hiding?' I ask. 'You could try rattling this tub of Whiskas treats' Mark says. He does it and Jasmine's head appears cautiously around the door! But she looks at me and decides not to bother joining us.
So on my first visit to them yesterday, after I clean the litter and get their food and water ready, I try his trick. For about ten minutes, I sit rattling the tub. Nothing! These two cats are way too clever to be fooled by me trying to tempt them to come and play with me!
Maybe they'll come out of hiding tomorrow...........
No photos of either of them to share!
STOP PRESS!!! Dexter and Jasmine come out to see what's going on on my second visit - they are both a bit wary but even induldge me in a bit of playing! Next time I go, I'm taking my camera......
My final visit today, and it turns out, they both love having their photo taken!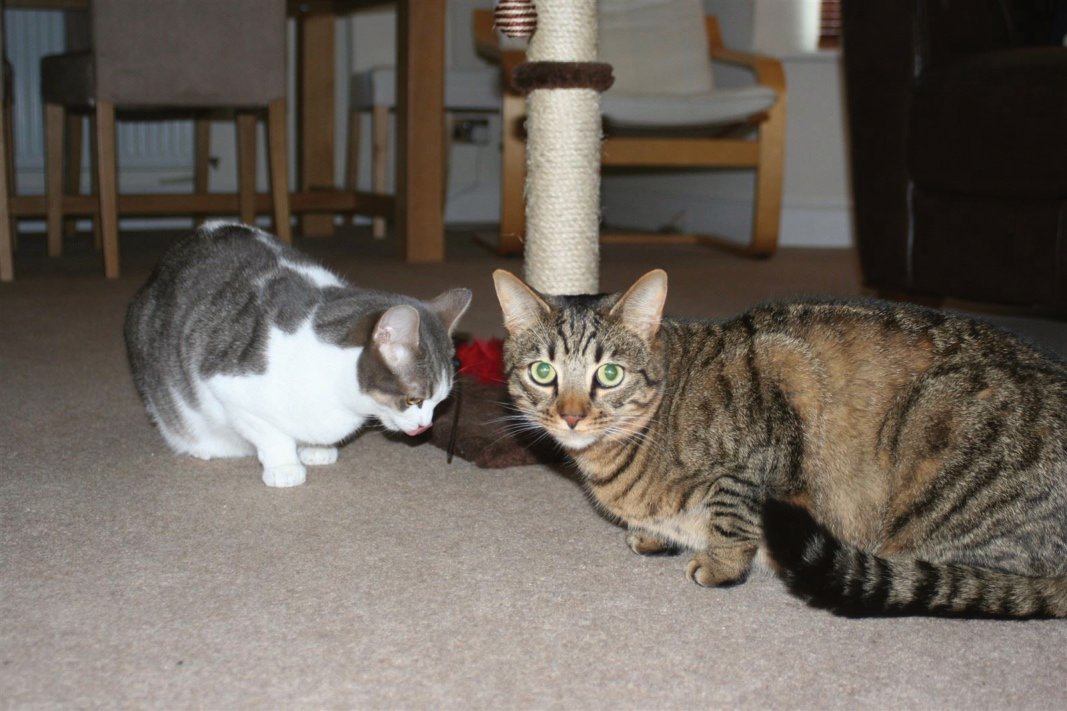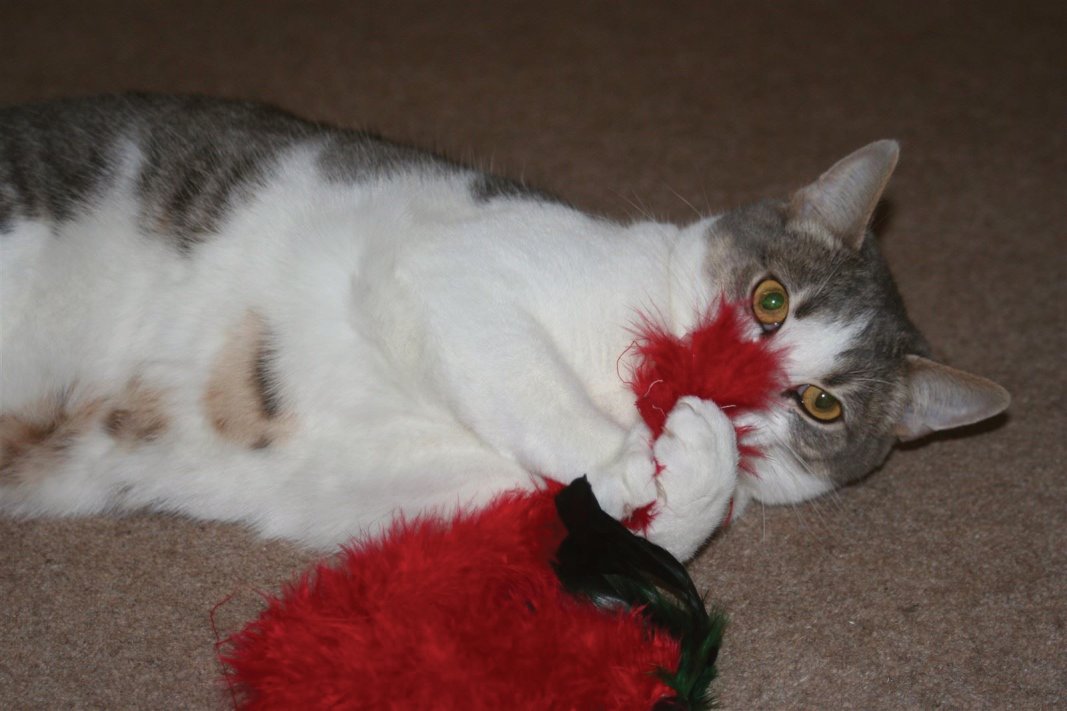 Charlie, the beautiful golden retriever is boarding with Mind My Paws for the half term week. His family have gone skiing and they wanted to make sure their beloved dog got the care and attention they would give him if they were there. As they normally holiday in the UK, Charlie goes with them. So it's as difficult for them to leave Charlie as it is for him to be away from them.
All Charlie's familiar toys, bed and food come with him. He settles in easily and sits on my feet as his owners told me he would! Throughout the week Charlie gets to discover Twyford, meets new dogs and other dog walkers who all say exactly the same thing 'what a beautiful dog!' And they're right of course.
It's going to be hard giving him back!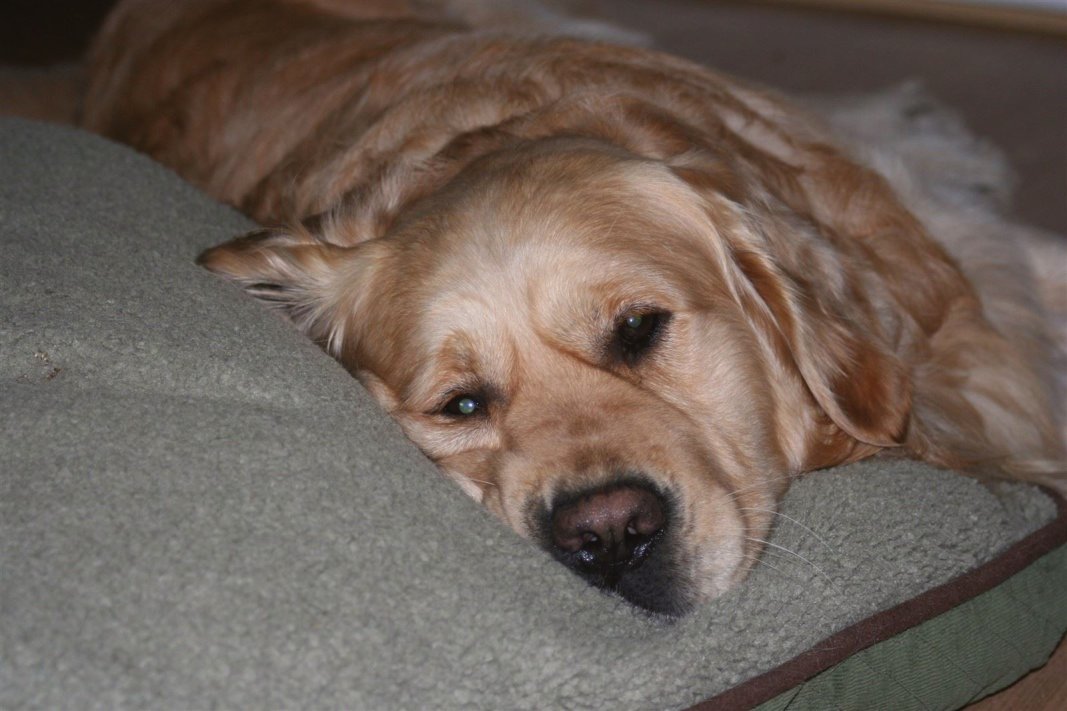 /