Shopping Basket
Your Basket is Empty
There was an error with PayPal
Click here to try again
Thank you for your business!
You should receive an order confirmation from Paypal shortly.
Exit Shopping Basket
Dog walking and pet sitting services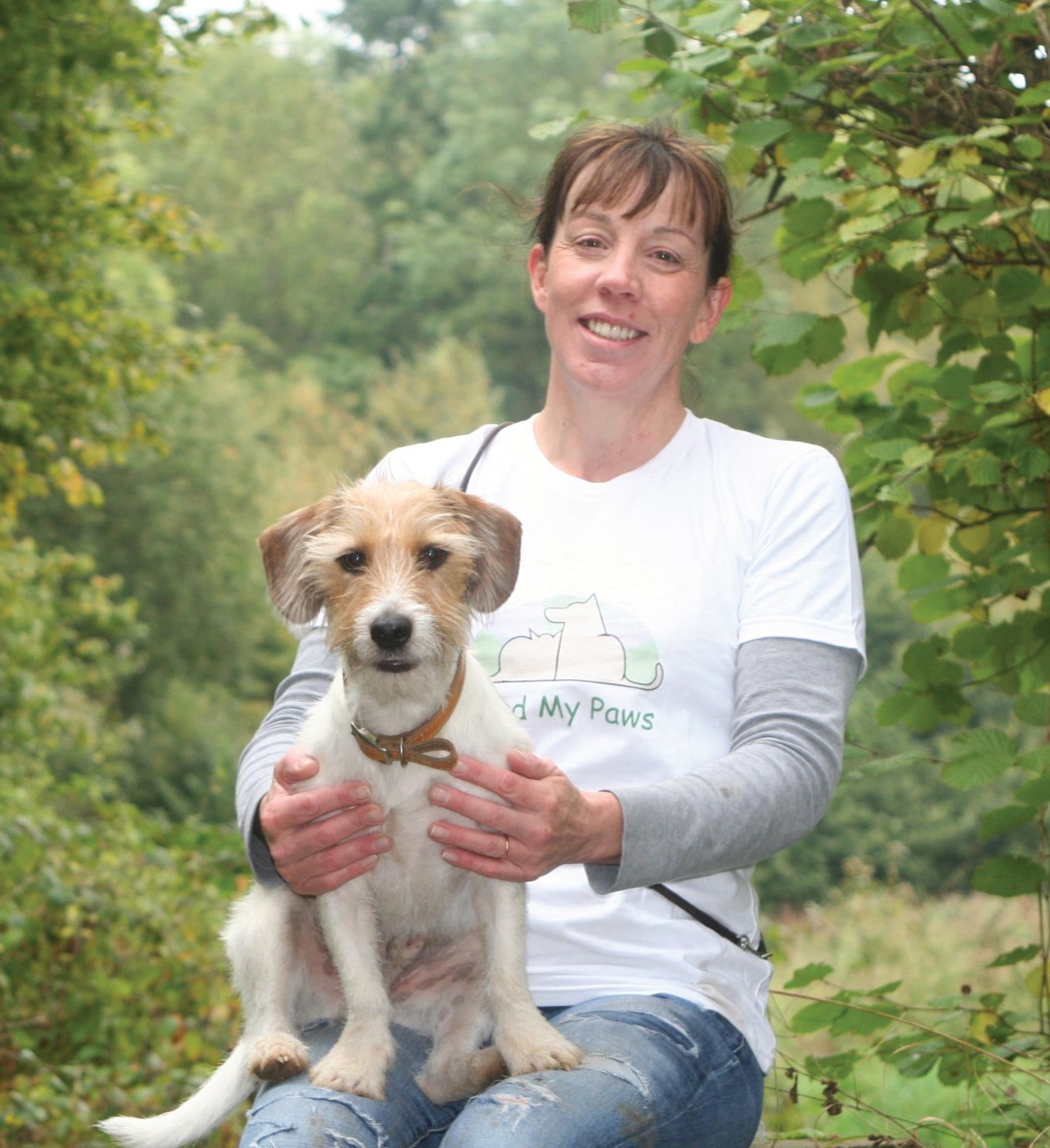 You might have noticed a lack of stories on my blog for a few months. I'm happy to report that this has been due to being so busy that I haven't had time to write anything. Excuses I know, but it's true.
So I am very happy to announce that I have found the perfect person to join Mind My Paws to help out with the dog walking side of the business. Stef, one of my very first clients, has joined us on a part time basis.
I have been thinking about needing to find an extra pair of feet for a while now, but wondered how I would be able to trust anyone else with any of my dogs. When Stef told me she was thinking about cutting back her job to part-time and how she would love to do what I do, I jumped at the chance of her coming on board at Mind My Paws.
Stan, her gorgeous Jack Russell pup is now nearly two years old and I have looked after him since he was 13 weeks old. He has the perfect life - lots of walks in exciting places, agility training and he even won second place at puppy school, thanks to Stef and her other half, Mark's dedication to ensuring that they raise the perfect dog. And when they have to both be at work, Stan comes to me. What a life!
Stef has grown up with many different dogs, has lived and worked on farms, caring for animals across the board. She has an active interest in dog behaviour and has a natural way with animals.
Stef has walked many, many times with me and my pack so knows all there is to know about their individual behaviours, habits, likes and dislikes.
I am very happy that Stef is part of the team and look forward to your dogs getting to know and love her more.
It's about time I introduced you to Jazz, who joined Mind My Paws doggy day care in February. Her owners, Jo and Matt, had always wanted a dog but couldn't see how they could have one as they both have a very busy working schedule. Then they found me! So they set about finding their perfect pooch - and succeeded!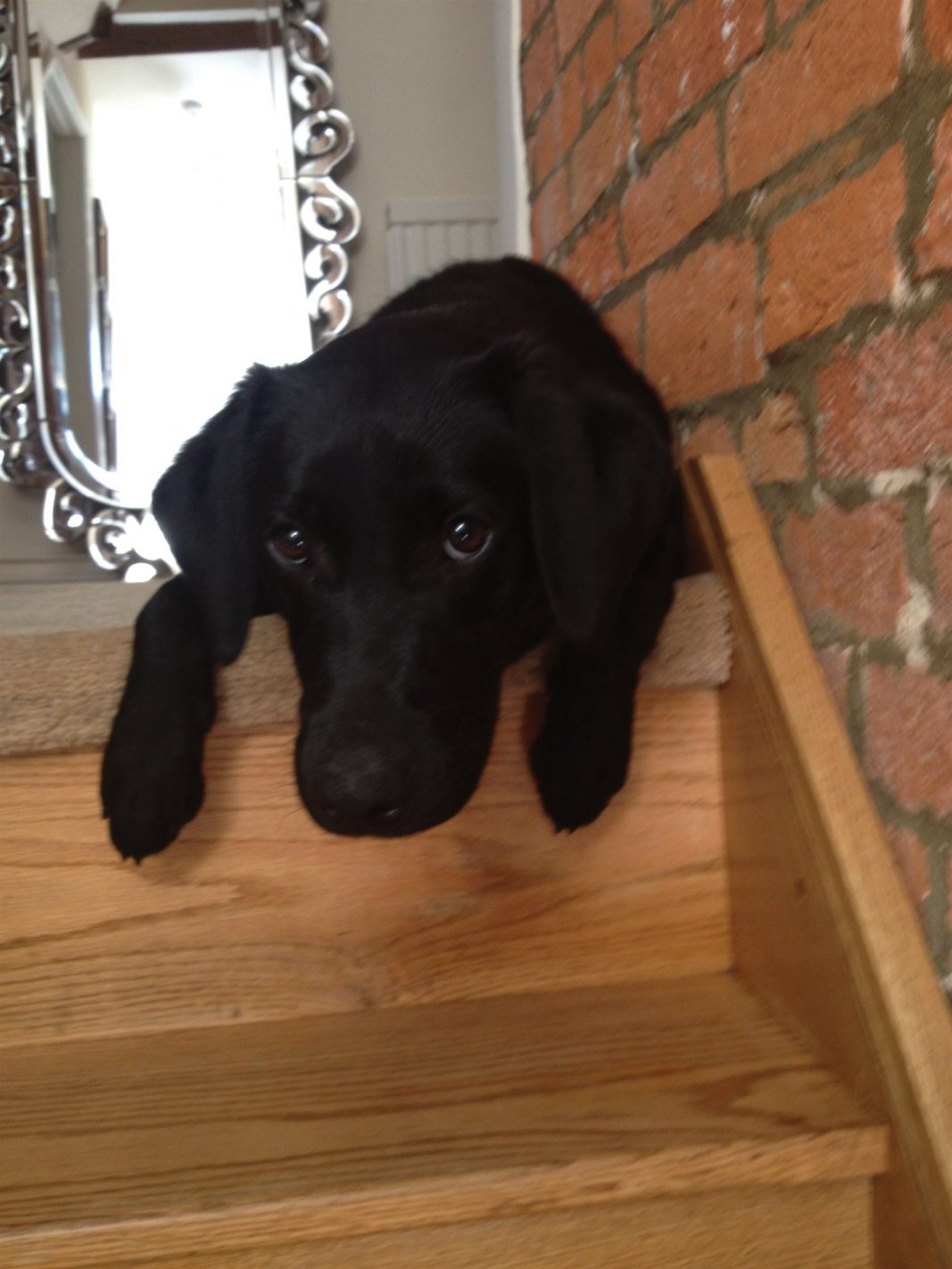 They picked the 8 month old working labrador up from the breeder, on a recommendation from a friend, who had one of the pups from the same litter.
I went to meet her the day before she was due to start day care with me. I took a couple of other dogs and we all went for a walk (in the snow!). Little timid Jazzie stuck by her new owners side the whole walk, looking a bit scared of everything and everyone. 'Don't worry' I said, 'she'll be running with the others in no time.' Later that week, I sent Jo and Matt videos of her doing just that.
Four days a week, we meet at Twyford train station around 7am when our day begins. We have breakfast together (well Jazz has already had hers) and set off for our first walk at 9am with the others. Then there's lunch (well my lunch) and then there's more walking. Jazz is now the most adventurous of the dogs I walk, can't help herself from running to meet other dogs and loves to chase birds and rabbits! She's still not too keen on people though!
At home Jazzie is a very chilled out pup, happy to laze around, and happy to chew the odd slipper when your back is turned! But she literally has those 'puppy eyes' that make you forgive her instantly. She is very obedient, highly affectionate and LOVES getting her tummy tickled.
I meet lots of people when I'm out walking and Jazz always gets the same reaction: 'look at that beautiful face'!
Occasionally I get enquiries from people who are looking for someone to walk their dog for a week or two as they are unable to, for various reasons. I rarely write about these dogs as life just seems to fly by and before I know it, I am no longer walking them. But I had to stop and write about my most recent temporary pup. For the last three weeks, Clicquot, the beautiful black labrador, has been part of my 11am pack.
I met with her and her owner for half an hour and then took Clicquot straight out with my other dogs that day. We bonded straight away. As with most labradors, she is treat motivated and realised very quickly where the treats were kept (my trouser pocket), so stayed close. I took them all to an enclosed area down by the river Thames to see how her recall was with me. I quickly discovered that she loves swimming! And chasing balls and playing with the other dogs. Such an obedient girl and so happy when out on her walks.
I was very sad when her owner no longer needed me to walk her, but there's hope - I will be walking Clicquot occasionally between now and Christmas and over Christmas while her owners are on holiday.
Beagles are arguably the cutest dogs out there - and I've been waiting for nine months to get one on my books - then TWO come along at once! Bart and Lisa have recently moved back from Holland with their family and are back in their original home of Twyford.
Bart is four and Lisa is three. When I went to meet them, their owner told me that both of them had a bad experience with big dogs when they were very young and as a result both tended to fall on the scared side when meeting other dogs. I reassured her that ALL of the dogs I walk are highly sociable and very friendly towards other dogs. I took them out together on their own for the first week, so that they were able to get used to me. 'Would you rather I kept them on their leads?' I ask, 'oh no, they are happier off-leash'. I must admit that I was slightly apprehensive about beagles being off-lead as they are renowned for running off! But I needn't have worried, these two are never far from my side.
After introductions to Polly, Toto, Lewis and Phoebe, the beagles fit into the pack perfectly.
It's hard to tell them apart by the way they look; their different personalities are the easiest way to know who's who. Bart tends to keep himself to himself and prefers sniffing rather than playing with the others. As long as he can see me he's fine - in fact he'll stand and sniff something for the whole walk if you let him! As soon as I'm out of sight, he comes running. Lisa is the more adventurous of the two. She loves exploring in the woods with Polly and not bothered if I'm not in sight, but she always comes back when I call.
They do have one thing in common though - they both LOVE rolling in fox pooh.......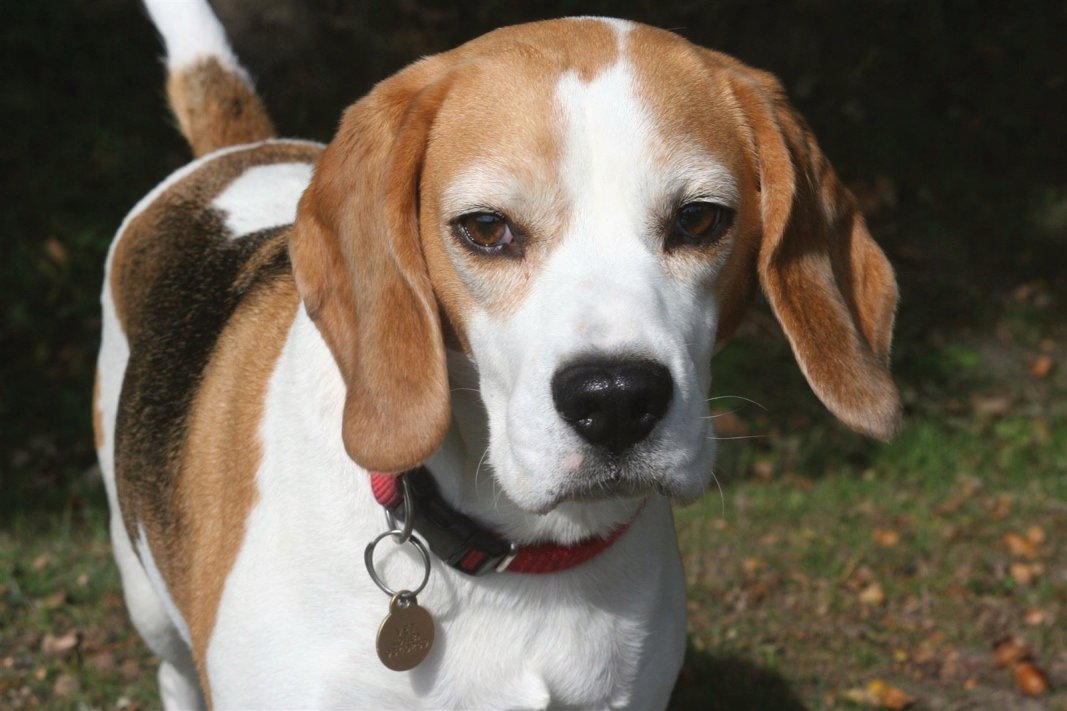 As I look over my blog posts, I realise that there are so many of my dogs that I haven't introduced you to yet! Aside from my boarders, it's time to meet my regular walkies pups.
My walking schedule is now pretty much set in stone (although there is always room for maneuver). I do my first walk of the day with Saska the staffie in Twyford. She is 12 years old and her owner would prefer her to be walked alone, so three days a week, we go for a half hour walk together. She sets the pace and I follow behind!
At 11am, it's off to Henely, where my boarder will join Dudley, the chocolate lab and Frankie, the wee yorkshire terrier. Dudley is fighting fit and back to his pre-shoulder op weight. Chasing his ball is his favourite thing to do. Frankie gives him a run for his money and sometimes he even lets her win! Frankie is such a treasure and gets on with every dog I've taken her out with - the bigger the better! New recruit Mondo, the 4 month old yellow lab often joins us too. He is very cute, has perfect recall and loves to roll around in fox pooh!
At 4pm it's back to Henley to give Dudley his second walk of the day. Stan, the jack russell joins us, as does Rolo, the miniature labradoodle and my boarder. Stan has been with me since he's been a puppy and has grown into a perfectly behaved joy to walk. Rolo is a fun loving and obedient boy.
Is that everyone? no hang on - there's two more. Chelesea is Stan's new 'little sister'. A miniature jack russell, she's still too young to come out on walks with us, so she gets to enjoy doggy day care and sleep while we're out walking. She'll be out with us soon though.
And finally there's Lewis - the springiest springer spaniel I've ever met. I haven't managed to get him to stay still long enough to get a picture yet. Watch this space!
When I got a call from Julie, who told me she was moving from Sheffield to Sonning and was looking for someone to look after her 14 month old pug dog, Phoebe, I was so excited - pugs are (one of) my favourite breeds! So I arranged to meet up with them as soon as they arrived in Sonning.
Phoebe enrolled in Mind My Paws doggy day care three weeks ago, and I have completely and utterly fallen in love with her! She is the cutest little thing with the biggest personality. She comes to me three days a week and also boarded with us this weekend. During her time with us, she has met many new doggy friends, including Rolo the labradoodle, Dudley the chocolate lab and Stan the jack russell (not so much of a puppy anymore!).
She provides hours of endless entertainment, just by simply either never sitting still for a second, or completely sparking out on your lap when she's used all her energy.
Yesterday, we took her to our dog friendly local, Victoria Arms in Binfield, to introduce her to some friends. She won the affection of the whole place - including a very excitable 3 year old who sat on my lap, laughed uncontrolably and played with Phoebe for maybe half an hour!
I'm so happy to see Phoebe's little face when I pick her up in the mornings and am hoping that over time, her mum will feel less and less guilty about leaving her!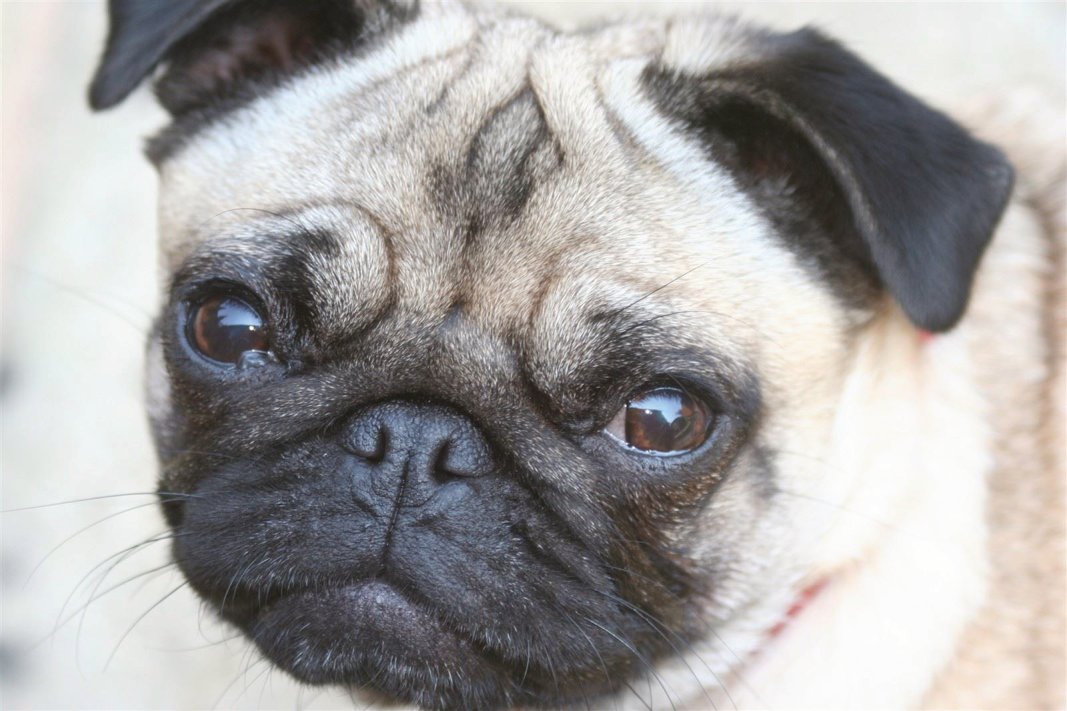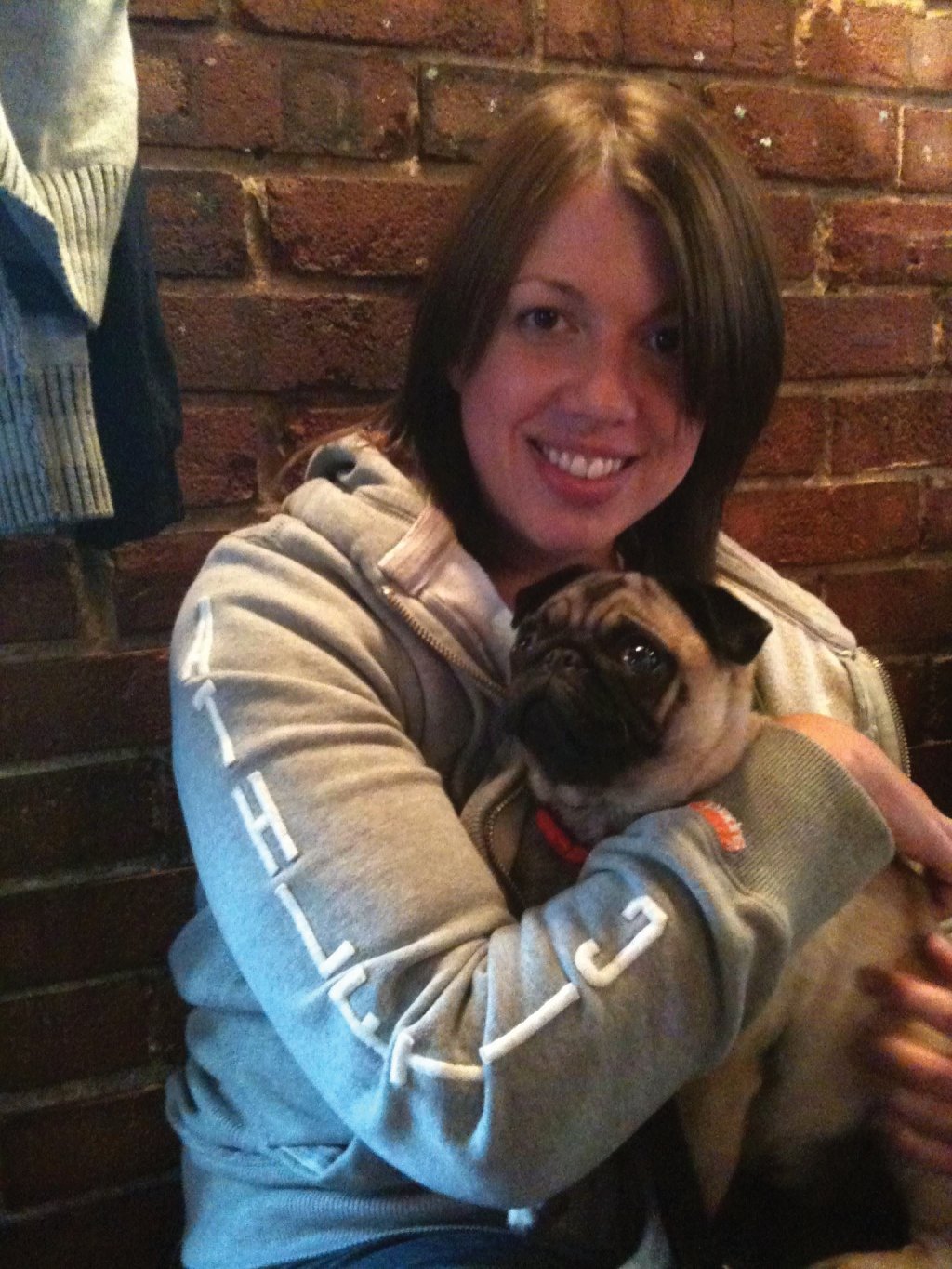 Dudley and his family have moved from Toronto, Canada back to the UK, so he is my first official foreigner. Thankfully he seems to understand my Scottish accent!
Having had a major shoulder operation in November last year, Dudley is now fully recovered and ready to get back out there and restore his fitness levels - which is where I come in.
Living slap bang in the middle of woods just outside Henley on Thames, we are spoilt for our choice of walks. There are woods in all directions and the Thames is within walking distance too.
Tim and Jillian, his mom and dad walk Dudley first thing in the morning, then again at lunchtime. I visit every day at 4pm, sometimes with some companions for him to play with (Mia joined us last week and Bouncer will be joining us next week). Dudley is always happy to see me as he gets to explore his new land.
Lots of uphill, downhill paths through the woods, some amazing bird spotting opportunities and packs of muntjac deers aplenty, our walks are never dull! Yesterday we went along the Thames as the sun was shining. I think Dudley would tell me it's still a bit too cold to swim if he could. What a handsome boy!
Frankie is the newest addition to my dog walking service in Henley on Thames. This one year old is full of character and even although she is tiny, she is strong and knows exactly what she wants. She is keen to play with other dogs and is a constant source of entertainment. Her little legs take her happily on our hour long walks easily and she looks up at me at the end as if to say 'what is that it?'
The weather is starting to get nicer, so we have plenty of beautiful walks ahead for us and all our other dogs. I know that Frankie is going to get along just fine with Charlie, the golden retriever who will be staying with us for a week while his family are on holiday.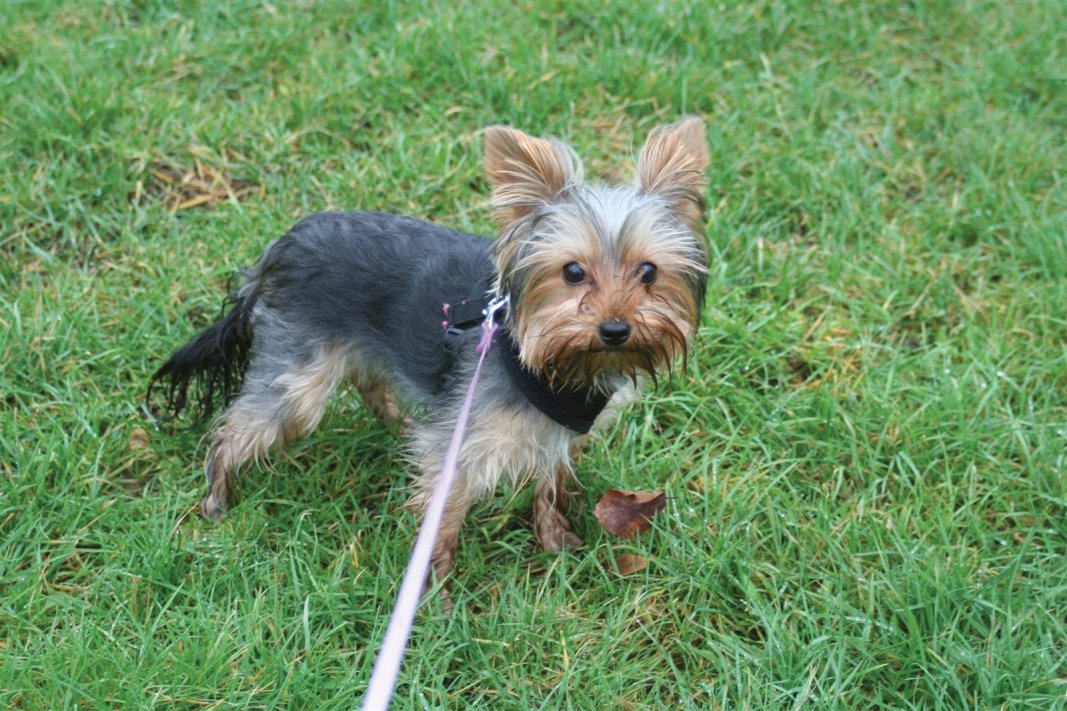 Not the sunniest day for a Sunday morning walk - but Winston doesn't care what the weather's like!  His owners say he's not too good with other dogs so it's best to keep him on his lead the whole time. Off we go for a nice long walk in the soggy courtryside between Binfield and Twyford. We pass a few other dogs on the way, there's a bit of grizzle (not just from Winston!) but nothing to worry about. Winston is a happy, lovely dog and it is a pleasure to walk him.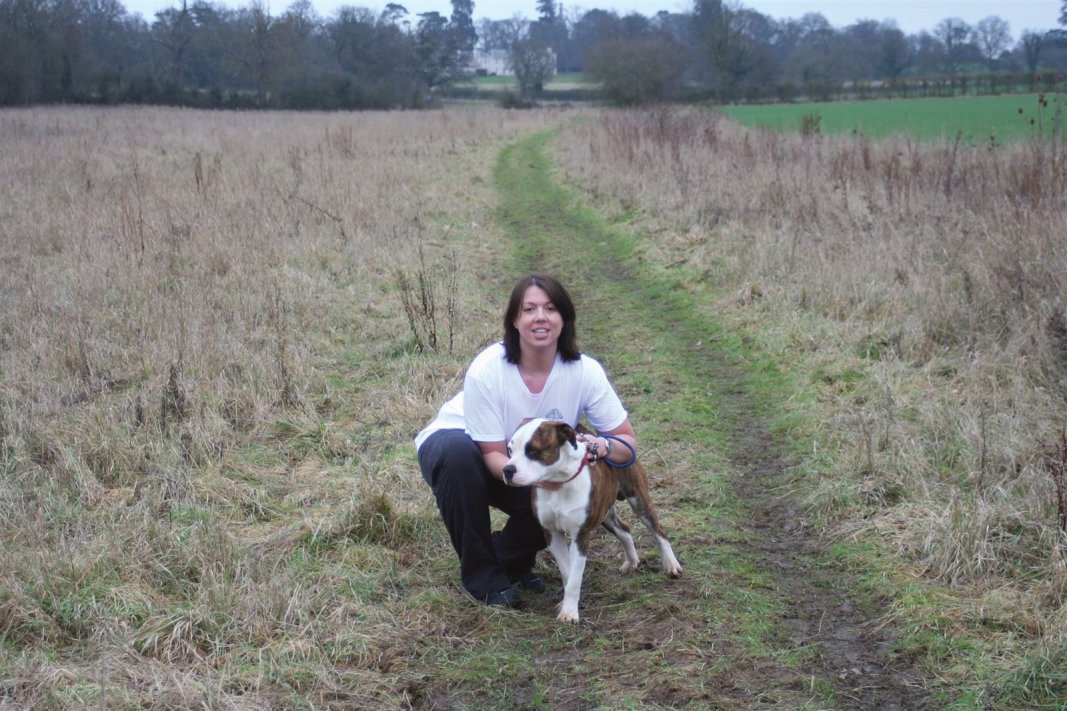 /